26 May 2017
Jaguar annonce l'arrivée d'une déclinaison extrême de la berline XE, voici la SV Project 8.

Avec ce modèle super exclusif, la marque anglaise réitère l'exercice d'une voiture très spécifique disponible en série limitée comme l'était la F-Type Project 7 en 2014. Cette deuxième auto de la gamme "Collector Edition" sera conçue et assemblée par le département SVO (Special Vehicle Operation). Disponible en seulement 300 exemplaires, elle fera sa première apparition publique lors du Festival of Speed de Goodwood le 30 juin prochain.
Les spécifications détaillées de cette XE SV Project 8 seront dévoilées le 2 juin, mais on sait déjà qu'elle disposera d'un V8 5.0 de 600 chevaux. Après notre essai exceptionnel de la Project 7, la rédaction de Wheels And You se réjouit de pouvoir prendre les commandes de cette démoniaque Project 8.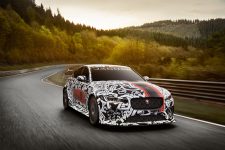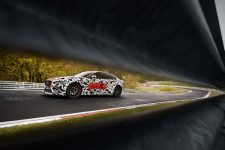 Pour partager vos impressions, rendez-vous sur le forum UltraSportives.