28 February 2017
Quelques semaines après la présentation de la dernière Yaris, Toyota annonce également l'arrivée d'une version survitaminée.

Totalement nouvelle, la Yaris se décline sous le nom GRMN (Gazoo Racing Masters of Nürburgring) et s'inspire du modèle qui a fait son apparition cette année dans le championnat du monde des rallyes (WRC).
La Yaris GRMN est équipée d'un 1.8 compresseur qui développe 210 ch et la transmission, sur les roues avant exclusivement, se fait au travers d'une boîte manuelle à 6 rapports. Développée sur le mythique tracé de l'enfer vert, cette bombinette promet bien des sensations. Au programme, châssis renforcé, train roulant amélioré et différentiel à glissement limité de type Torsen pour mettre en avant le plaisir de conduite.
Il sera facile d'identifier cette super Yaris grâce à son aileron noir et son diffuseur arrière lui aussi noir. Mais également par sa décoration rouge et noire qu'on retrouve sur le capot moteur et les jupes latérales, ainsi que ses jantes 17″. A l'intérieur, traitement sportif également avec entres autres des sièges sport Toyota Boshoku qui proviennent du même équipementier qui avait fourni les baquets de la phénoménale Lexus LFA.
Tout cela est très alléchant, l'équipe de Wheels And You se réjouit de pouvoir vous proposer un essai complet.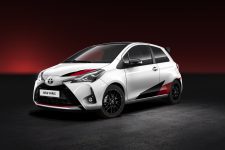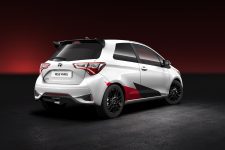 Pour partager vos impressions, rendez-vous sur le forum UltraSportives.